"Uncanny Valley" – The concept of the uncanny valley suggests that humanoid objects which appear almost, but not exactly, like real human beings elicit uncanny, or strangely familiar, feelings of eeriness and revulsion in observers. (Link to Wiki Page)
Or in this blog's case…stuff I find weird, cool, or disturbing. Happy Easter Weekend…
+++
(Pretty much…)
+++
+++
(No, it's not weird, but we all need some adorableness now and then)
+++
Rollin' Wild – Official Website
+++
Thanks, 70s. You never disappoint.
+++
(Ah, the 1940s…)
+++
WARNING: GRAPHIC CONTENT
WARNING: GRAPHIC CONTENT
When Maria Elena de Hoyo entered a Miami hospital in 1930, no one could know that her doctor would continue to care for her, years after she had died.
A native of Dresden Germany, Carl Tanzler was born in 1877. At the age of 12, Carl Tanzler received a vision by his deceased grandmother, Countess Anna Constantia von Cosel, who revealed to him the face of his one true love.[1] Even after getting married and fathering two children, Tanzler ( also known as Carl von Cosel) continued to search for his soulmate, believing it was just a matter of time until their paths crossed.
Tanzler claimed to have earned nine university degrees, was a former submarine captain, and an accomplished inventor.[2] Reportedly, he studied weather patterns and dabbled in electrical engineering in Austria in the early 1910s.[3]
When war erupted in 1914, Tanzler was placed in a concentration camp with many officers who served in India and China at the time. That was an order from the British military authorities who kept them as prisoners of war or, as stated then, for safe keeping.[4]
After the war, he went back to Germany where he lived with his mother for three years, before marrying Doris Anna Shafer (1889–1977) in 1920 and having two daughters.[5] The younger died of diphtheria at the age of ten.[6] Tanzler sailed to Havana, Cuba from where he was able to enter the States.
In reality, Tanzler was an eccentric and lonely man who in his early 50s, sailed to Havana Cuba, emigrating from Germany to the United States. Tanzler joined his sister in Zephyrhills Florida, where his wife and daughter eventually joined him.[7] Within a year, Tanzler would abandon his family, going on to find employment as a radiologist ( in addition to being a licensed microbiologist and bacteriologist) for the Marine Hospital in Key West Florida.[8] A few years later, in 1930, Tanzler's childhood vision became a reality.
Born on July 31, 1909, in Key West, Florida, Maria Elena was a strikingly attractive girl with luxurious dark hair and an appealing shyness. The middle of three daughters to a cigar maker, Francisco "Pancho" Hoyos (1883–1934) and Aurora Milagro (1881–1940), a homemaker, Elena had a beauty that didn't go unnoticed.[9] She attracted a fair share of admirers. Early marriage was customary among the Cuban-American community, and Elena married Luis Mesa in 1926 at 16 years of age.[10] Within a year, Maria Elena became pregnant, but suffered a miscarriage. Shortly after the miscarriage, her husband left her and moved away to another city.[11]
In 1930, Maria Elena went to the hospital to be treated for what was initially thought to be pneumonia but was Tuberculosis.[12] Upon entering the exam room, Tanzler observed her dark brown hair, and beautiful demeanor- her features matched those of the woman in his childhood visions.[13] And so began Tanzler's decade long obsession with Maria Elena.
The Macabre True Story of Carl Tanzler and His Corpse Bride
Carl confessed his love to Maria Elena, who unfortunately failed to return his love and admiration. Desperate to save her from a slow and agonizing death from tuberculosis (a vaccine had yet to be discovered), Tanzler attempted to treat and cure Maria Elena with a variety of medicines and illegally brought x-ray and electrical equipment to the Hoyos' house for home treatments.[14] All the while he continued to shower her with gifts, declaring his undying love.
Despite Tanzler's best efforts, Maria Elena succumbed to the disease and died at her parents' home in October, 1931.[15] Devastated, Tanzler paid for her funeral and mausoleum, visiting her monument regularly. Little did anyone know, Tanzler was the only person with a key to the mausoleum.[16]
Image Credit: Florida Keys Public Library
Pyschiatrists were unable to discover the triggers that caused Tanzler to commit his macabre crime.[17] But in 1932, he began hearing Maria Elena's voice calling out from the grave, asking him to free her from her mausoleum.[18] So, one balmy April evening in 1933, he removed Marua Elena's corpse from the mausoleum, loaded it into a child's red wagon, and carted it back to his home.[19]
The Obsession Of Carl Tanzler: A True Story That Will Haunt You – Anita's Notebook
Tanzler attached the corpse's bones together with coat hanger wire and fitted her face with glass eyes. As the skin decomposed, he replaced it with silk cloth soaked in wax and plaster. Collecting her hair as it fell out of the scalp, Tanzler fashioned a wig from Hoyos's hair. Stuffing the cavities with rags, Tanzler resorted to copious amounts of perfume and preserving agents, to mask the odor and the effects of the corpse's decomposition. Dressing Helena's remains with clothing and accessories appropriate for proper young woman in the mid 1930s, Tanzler and Helena shared a bed.[20]
Seven years later, the combination of Tanzler's habit of routinely buying women's clothing, his absence from the mausoleum, and a local boy's sighting of him through a window dancing with what appeared to be a giant doll, aroused some serious suspicion.[21] The rumors began to swirl that Tanzler was sleeping with a corpse. After a heated confrontation with Maria Elena's sister, in October 1940, he was arrested and charged with desecration of the grave site.[22] The trial became a media sensation, and surprisingly the majority of the public, especially women, supported Tanzler, finding him to be an eccentric romantic.[23]
While on the stand, Carl claimed he planned to use an airship to take Helena "high into the stratosphere, so that radiation from outer space could penetrate Elena's tissues and restore life to her somnolent form," which made about as much sense as anything else during the hearing.[24]
Tanzler was eventually cleared, since the statute of limitations on his crimes had expired. At the conclusion of the trial, Tanzler did ask the court to have Helena's remains released into his custody.[25] Obviously, his request was denied.
Two physicians (Dr. DePoo and Dr. Foraker) who attended the 1940 autopsy of Hoyos' remains recalled in 1972 that a paper tube had been inserted in the vaginal area of the corpse that allowed for intercourse.[26] Tanzler never admitted to committing any necrophiliac acts.[27]
The Macabre True Story of Carl Tanzler and His Corpse Bride
Separated from his eternal soul mate and obsession, Tanzler used a death mask to create a life-sized effigy of Helena, which he kept in his bed until his death in July of 1952.[28] Some accounts of Tanzler's death claim his body was actually found in the arms of the life sized effigy.
The bizarre story of Carl and his "corpse bride" became a popular legend among residents of Key West, and Elena's crudely-preserved body was briefly kept on display at a local funeral home, where thousands of locals came to view it before it was finally returned to a proper resting place.[29]
+++
Runaway Emus Finally Captured After Day On The Lam
Now the birds are being moved to a new home because emus are banned in Galveston, Texas.
+++
84-year-old Boston Man Hailed As 'Octopus Whisperer'
Wilson Menashi estimates he's spent 7,800 hours of his life hanging out with the creatures.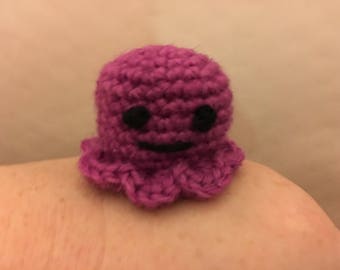 (Etsy photo)
+++
Costco Now Sells A 27-Pound Tub Of Macaroni And Cheese That Lasts 20 Years
Mmmm, cheese.
+++
Happy Year of the Pig!
2019
https://www.facebook.com/AbbythePinkPiggy/
+++
110 years old New Year's Wish for you
+++
Apparently, Black Philip (the goat from the movie The Witch)
makes appearances during Christmas seasons of old.
+++
Vintage Christmas Card Weirdness…
(Not sure if I would totally trust this Santa…)
+++
Baby Elephants!
+++
+++
20 Strange Beauty Pageant Queens of Food Industry
From the Mid-20th Century
+++
A Dutch man, 69, tries to legally turn back time twenty years.
 Good luck with that.
+++

+++
Uh…Happy Halloween?
+++
Where do you even start…?
+++
Do you REALLY want to know the backstory here?
+++
Get in the Halloween spirit…
https://www.stuffyoushouldknow.com/blogs/vintage-halloween-costumes-worked.htm
+++
Owls Need Our Help!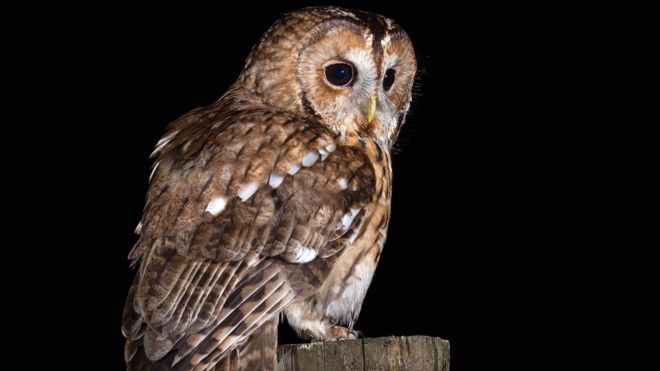 The British Trust for Ornithology (BTO) is asking people to listen for the distinctive hoot from their garden, a local park or woodland, once every week for the next six months.
"You can even do it from the comfort of your bed," said BTO's Claire Boothby.
Light pollution and urbanisation are thought to be impacting populations.
The conservation status of the Tawny owl recently changed from green to amber, signalling a growing concern for the species.
'Anyone can take part'
Researchers hope the Tawny Owl Calling survey, which runs from 30 September to 31 March, will help them understand if, and where, the bird may be in decline.
They say it is not essential that members of the public listen every single week, insisting that all data will be useful – even in locations where an owl call cannot be heard as this indicates where the species is missing.
"Anyone can take part, and the more people that do, the better picture scientists at BTO will have of our Tawny owl," Ms Boothby said.
+++
A seal, an octopus, and a kayaker walk into a bar…
+++
First images of Highland Wildlife Park's rare leopard cubs
Motion cameras in an enclosure at the Highland Wildlife Park in the Cairngorms have taken the first images of two rare Amur leopard cubs.
The three-month-old cats were born in a part of the zoo off-limits to the public, and rarely visited by staff.
The Royal Zoological Society of Scotland hopes this reduced human presence will make the cubs eligible for a reintroduction project.
It is not known yet the sex of the cubs, or if they have siblings.
Their birth was announced in July.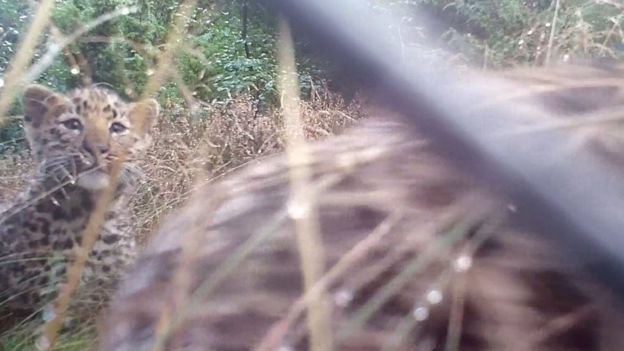 +++
Linky Here (Who doesn't love some bizarre retro ads?)
+++
(Wilson's Bird of Paradise)
+++
(Doesn't instill confidence in the product, does it?)
+++
+++
Vietnam chefs cook up 3,000 pound
bowl of soup
Aug. 14 (UPI) — A Vietnamese food company celebrated its 50th anniversary by cooking up a Guinness record-breaking nearly 3,000-pound bowl of soup.
Guinness announced the food company, VIFON, broke the world record for largest serving of noodle soup when it filled a custom-made bowl with 2,996 pounds and 1.3 ounces of beef pho.
A Guinness adjudicator was on hand to certify the record after the 55 chefs finished work on the soup.
VIFON said the soup included 336 pounds and 5.7 ounces of dried pho mix, 129 pounds and 13.3 ounces of fresh briscuit beef, 46 pounds and 4.4 ounces of seasonings, and 2,466 pounds 12.34 ounces of hot water.
+++
Moose has taken up residence in Greeley
 
+++
Kangaroo Brings Soccer Match To A Standstill
The mammal bounded onto a stadium field in Canberra on Saturday at half-time, in a match between the Belconnen United "Blue Devils" and the Canberra Football Club.
Then the eastern gray kangaroo leaped back on the field during the second half of the game.
"And the kangaroo is on the field to play again," a commentator announced, "racing across the field, scattering players left and right, bearing down on goal."
Officials and players punted soccer balls toward the marsupial, hoping it would take a hint and bound away. But they were no match for those strong hind legs which jumped over and deflected balls.
Unphased, the kangaroo decided to lounge in front of the goal — until a pickup truck ushered it off the field.
The history of Australia's kangaroos as "pests" is "deeply and widely entrenched," according to scholars.
The Australian government reported last year that the country's kangaroo population, at about 45 million, was nearly double that of humans.
+++
A Giant Sea Cucumber
(Spiral Poop Log – I can't make this stuff up)
https://www.livescience.com/63169-pooping-sea-cucumber-video.html
+++
Reese's sends care package to a man whose Reese's cup was missing peanut butter
Alex Hentges
In April, Alex Hentges of Dubuque, Iowa, opened up a Reese's Peanut Butter Cup, ready to enjoy a chocolatey, peanut buttery treat, only to be disappointed. The cup was solid chocolate — no peanut butter in the middle, which is what makes a Reese's a Reese's.
Hentges took to Reddit to share his experience. "My Reese's Peanut Butter Cup had no peanut butter," he wrote as the caption to a photo showing the solid chocolate cup. As more proof, Hentges even posted a video of himself breaking open another Reese's cup from the package, only to find no peanut butter inside. The images went viral and received a barrage of comments. "Somewhere out there someone is getting an all peanut butter Reese's cup," one commenter wrote.
"If you sent that photo to them they would bombard you with gifts. For real.., I know from first hand experience working for companies similar to them," one person commented on the Reddit post. It's unclear if this inspired Hentges to write to Reese's, but he eventually did.
"Yo Reese's what gives? Where's me peanut butter? April Fools was almost 2 weeks ago!" Hentges wrote, sharing the photo on Reese's Facebook.
Well, a few weeks later, Hentges got another, much more pleasant surprise from Reese's. The company saw his photo of the no-peanut butter fiasco, and sent him a replacement. In fact, they sent Hentges an entire care package full of Reese's products to make up for the snafu.
The package also came with a note.
"Here's enough chocolate AND peanut butter to to make everything cool between us," the company wrote.
Hentges updated his Reddit to show the results of his complaint. "Reese's replied to my peanut butter-less cup," he wrote. The photo of the care package soon went viral as well.
"I need to find me some peanutbutterless cups and post pics on reddit," one person commented. Others thought it might've been Reese's plan all along: "Reese's was totally hoping this guy to share this on social media and get free advertisement," someone commented.
"They sent you $20 of chocolate and got $100,000 worth of free advertisement, you can't beat that return on investment. I'll be back, I'm craving some peanut butter and chocolate," one person wrote. Others just shared similar stories of food misfortunes that turned into freebies.
Hentges accepted Reese's gift with open arms and a hungry stomach — although he says he did share some of it with his coworkers.
+++
(I'm not really sure what's happening here…but I like it)
+++
Two rare Scottish Wildcats, born at the Royal Zoological Society of Scotland's Edinburgh Zoo, may help provide a lifeline for the iconic species.
The kittens will join a conservation breeding programme, which it is hoped will save the species from extinction in the wild through future reintroductions.
David Barclay, RZSS cat conservation project officer, said, "Scottish Wildcats are facing severe threats due to cross-breeding with domestic and feral cats, disease transfer and accidental persecution."
"Wildcat populations have suffered a sharp decline in Scotland in recent decades with studies suggesting there may be as few as 115 Scottish Wildcats left in the wild, making them one of the UK's most endangered mammals. Our conservation breeding programme and work with partners in Scottish Wildcat Action, the national conservation project, is therefore vital."
David continued, "Every birth is a potential lifeline and improves the chances of a genetically healthy population that can act as a source for future wildcat release."
Born in April, the kittens have recently started to emerge from their den and explore their habitat.
+++

A rare flower which smells like rotting flesh is blooming for just 48 hours at the Eden Project in Cornwall.
The titan arum, known as the corpse flower, has been nurtured for years by expert Tim Grigg at the project, but will only flower for two days.
During that time, it will let off a foul smell, which has been likened to the stench of rotting flesh.
+++
The Milwaukee County Zoo is proud to announce that a Reticulated Giraffe was born on May 15.
The female calf arrived in the early evening to mom Marlee. This marks the second offspring for Marlee and the fourth for Bahatika, the father.
Photo Credit: Milwaukee County Zoo
On May 16, veterinarians completed the calf's first exam. The baby weighed 174 pounds and stood 6 feet, 1 inch tall.  Zookeepers and medical staff have been observing mother and baby closely.  Marlee appears very calm and attentive to the calf, who is nursing regularly.
The calf does not have a name yet.  Zookeepers who work with the newborn say they want to wait a while and learn more about her personality before choosing a name.
Six-year-old Marlee arrived at the Milwaukee County Zoo in 2013 from Zoo Miami.  Bahatika is 12 years old and arrived in 2006 from the Cheyenne Mountain Zoo.
The zoo currently houses six Giraffe: adults Bahatika, Marlee, Ziggy, and Rahna; youngster Kazi; and the newborn.
Reticulated Giraffes are one of nine species and subspecies of Giraffe found in Africa. While widespread geographically, their numbers have decreased dramatically in recent decades, with only about 100,000 individuals remaining in the wild. Habitat loss, fragmentation, illegal hunting, and expanding human settlement contribute to the decline. Giraffes as a species are listed as Vulnerable by the International Union for Conservation of Nature, with their status uplisted from Least Concern just over a year ago.
+++
I happened upon a Very Cool website of an artist who makes some fantastic and other-worldly art. Check out his site.
+++
Visitors at a leading contemporary art museum in Paris didn't leave only their coats in the cloakroom — they left all their clothes.
The Palais du Tokyo museum opened its doors to nudists for a special visit Saturday. It's part of growing efforts by France's tiny nudist community to encourage acceptance of clothes-free activities, after a nudist restaurant and nudist park opened in the French capital.
The museum visit was arranged before regular opening hours so the nudists wouldn't mingle with other visitors. They viewed an exhibit of contemporary works focused on "Discord."
Organizers said they are hoping to attract younger members and get rid of "complexes" around their nudist practices, which they don't wanted "limited to beaches, summertime or a certain category of the population."
+++
Library Shut Down After Stinky Fruit Mistaken For Gas Leak
The odor of the durian fruit has been compared to "turpentine and onions, garnished with a gym sock."
Things were out of odor at a university library in Melbourne, Australia, on Saturday afternoon, with fears of a gas leak.
But the smell that aroused suspicions was no leaky pipe. It was a notoriously stinky fruit.
Around 500 students and staffers were evacuated from the RMIT University library so that 40 firefighters, including masked crews, could investigate the source of the smell, according to the Herald Sun. The culprit was a durian left rotting in a cupboard, Melbourne's Metropolitan Fire Brigade said in a release.
Although aficionados relish durians for their creamy, sweet interior, the fruits are so polarizing that they're banned from Singapore's subway system and many hotels around Asia, according to Time.
Once authorities knew there was no danger, the building was reopened. However, Victoria state's Environment Protection Authority still had the task of removing the foul-smelling fruit from the premises, according to The Age.
+++
In the early hours of April 15, 1912, a lifeboat navigated the frigid waters of the North Atlantic Ocean, its skeleton crew scanning the dark, debris-littered surface for any sign of life. Hours earlier, the unthinkable had happened: The RMS Titanic, a majestic ocean liner deemed "unsinkable," had struck an iceberg and slowly disappeared into the sea on its maiden voyage.
Hundreds of passengers fled in lifeboats. Hundreds more perished, going down with the ship or freezing to death in the icy water. The only one of Titanic's lifeboats to turn back to the wreckage found body after body — until it discovered a young Chinese man, still alive, clinging to a piece of wood.
That man would be one of six Chinese passengers who survived the Titanic, a little-known fact about the historic disaster that has largely remained untold or distorted, owing to a racially hostile environment toward Chinese people in the West at the turn of the 20th century.
Now, the lives of these men — who they were, how they survived that fateful night and why they were barred from entering the United States — are being examined in a new documentary, "The Six," by Arthur Jones and Steven Schwankert.
Read the entire article from the Washington Post Here.
+++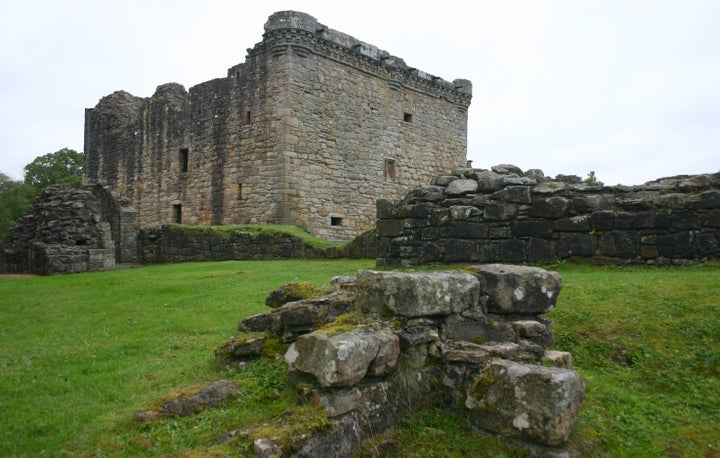 It's like something from a Monty Python sketch: Portions of a 16th-century Scottish castle were recently closed to the public due to a "very angry badger."
It's not clear what the animal did to leave the impression that it was "very angry":
+++
An absent "Oxford comma" will cost a Maine dairy company $5 million.
The suit, brought against Oakhurst Dairy by the company's drivers in 2014, sought $10 million in a dispute about overtime payment.
"For want of a comma, we have this case," U.S. Court of Appeals for the First Circuit Judge David Barron said in March, 2017.
The sentence at the heart of the dairy drivers' case referred to Maine's overtime law and whom it doesn't apply to: "The canning, processing, preserving, freezing, drying, marketing, storing, packing for shipment or distribution of:
"(1) Agricultural produce;
"(2) Meat and fish products; and
"(3) Perishable foods."
The disagreement stemmed from the lack of a comma after the word "shipment."
The use of the Oxford comma — also called a serial comma — delineates the final item on a list. For example: "Milk, cheese, and yogurt."
In 2017, Judge David Barron reasoned that the law's punctuation made it unclear if "packing for shipping or distribution" is one activity or if "packing for shipping" is separate from "distribution."
The five drivers who led the lawsuit will receive $50,000 each from the settlement fund, according to the Portland Press Herald.
For full article, visit:
https://www.nbcnews.com/news/us-news/think-commas-don-t-matter-omitting-one-cost-maine-dairy-n847151)
+++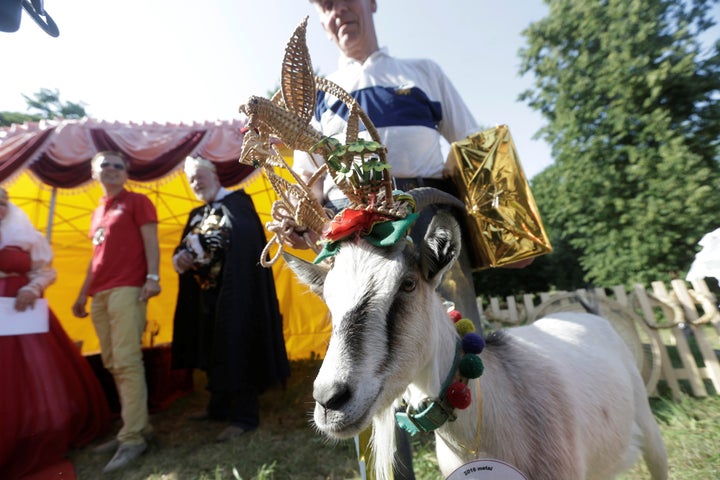 The village of Ramygala, Lithuania held its annual goat beauty pageant, and the winner was a female goat named Demyte, a.k.a. "Little Spot."
After a parade, six goats were selected to be finalists. They were then judged based on aspects such as nicest skin, the news agency reported.
The goats were also dressed up for the occasion. 
Reuters reported that several of the finalists flat-out refused to participate and wouldn't walk. They had to be carried by their owners instead.
Maybe that makes them the real winners here. 
+++
The Norwegian King's Guard mascot and Colonel-in-Chief is a penguin called Nils Olav (Brigadier Sir Nils Olav to be precise). Sir Nils resides in Edinburgh Zoo, Scotland, and was initially given the rank of visekorporal (lance corporal) in 1961. He has been promoted each time the King's Guard has visited the zoo since.
+++
American Horror Story Leak… (take it with a grain of salt, as you know, anything can happen in Hollywood)
With seven seasons in the can, Ryan Murphy's American Horror Story has delved into haunted houses, demons, witches, and perhaps most terrifying of all, the polarization of U.S. political discourse. Even though less than six months have passed since the ending of AHS: Cult, tentative details are already emerging about the incredibly secretive show.
According to Bloody Disgusting, we know three things:
1. Murphy says the story takes place in the "near future."
2. Sarah Paulson's signed up for another presumably starring role.
3. An industrious and likely kind of obsessed AHS fan found out 21st Century Fox has registered the trademark "American Horror Story: Radioactive."
Keep in mind a media company as huge as Fox registers trademarks before they know if they're ever going to use them on a routine basis. So while this info doesn't confirm "Radioactive" is the title of the next AHS, it is a strong indicator that one of Fox's lawyers thinks it might be the case.     
+++
Also known as "Hoop Man Yu-Ya" in his native country, Yamada is famous for his hula hoop tricks. He can spin a hula hoop while running, spin it vertically using both his head and his backside and can also spin dozens of them at the same time. The guy has incredible coordination, which basically allows him to keep the hoops spinning with virtually every part of his body, but for his latest world record attempt, he needed a completely different approach.
Spinning a 5.14 m hula hoop with only your torso is completely different than doing it with a regular size one. Instead of rocking your waist back and forth, you have to get it spinning using your hands and then literally run and spin inside the giant hoop while it is moving to keep the momentum going. It may look silly, but there's actually a very precise art to it and the timing has to be just right.
+++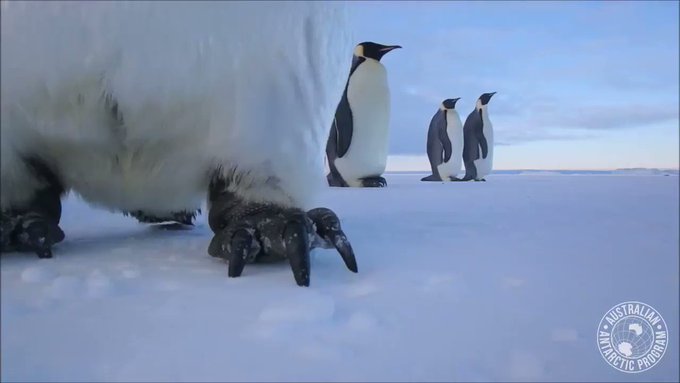 A pair of penguins were captured on camera appearing to pose for a selfie in Antarctica after one of the aquatic birds discovered the filming device.
The footage, filmed at the Auster Rookery near Australia's Mawson research station, was shared on Twitter by the Australian Antarctic Division.
 The penguins are seen tilting the camera over and examining it in a way that makes them appear to be taking a selfie together. The video also gives viewers a close view of the penguins and their facial features.
Australian Antarctic expeditioner, Eddie Gault, had left the camera after visiting the Auster Rookery, the Australian Antarctic Division said.
+++

Hitchin' a ride…
+++
Nothing says Happy Valentine's Day more than creepy old-school Valentine Cards. Enjoy! +++
A fish that changes its gender after it's simply had enough
Kobudai females can become males if they get large enough. Then they try to shove the other males out of their territory.
BBC America
…tale from Blue Planet II's first episode involves the kobudai, a fish that lives in the waters surrounding Japan. Among this species, one male will mate with many females, but he's always got to be on the lookout for what might happen if one of those females disappears to hide out for months — during which time she changes genders, becoming a male. If the new male has grown large enough, he can return to shove the original male out of his territory, only to begin the cycle anew.
+++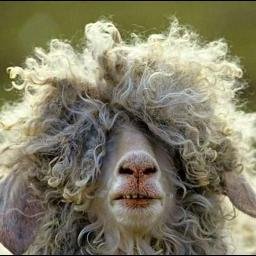 Sheep and goats may look similar, but they're different species. Sheep have 54 chromosomes, while goats have 60 chromosomes.

Sheep have excellent peripheral vision. Their large, rectangular pupils allow them to see almost 360 degrees. In fact, they can see behind themselves without turning their heads!

During World War I, President Woodrow Wilson had a flock of sheep trim the White House lawn.

Not only can sheep recognize up to 50 other sheep faces and remember them for 2 years, but they can also recognize human faces.
+++
Boanthropy is a psychological disorder in which the sufferer believes he or she is a cow or ox. The most famous sufferer of this condition was King Nebuchadnezzar, who in the Book of Daniel "was driven from men and did eat grass as oxen".
+++
Happy New Year! Welcome to 2018
+++
Catalonia
 In Catalonia a small log, with a red hat, is looked after by children. The Tio de Nadal, or poo log, is kept warm under a blanket and 'fed' Turron every evening from 8 December to ensure he eventually poos out lots of treats on Christmas Eve.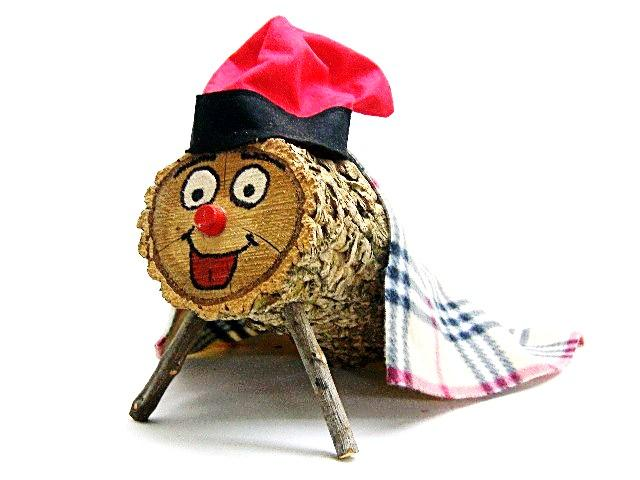 +++